caravan + camping park
Belhaven Bay, Edinburgh Road, West Barns, Dunbar, East Lothian, EH42 1TU
Good to know
We are delighted that you have chosen Meadowhead Parks and we will do everything that we can to make sure that your stay with us is as memorable and enjoyable as possible.
To make things easy for you, here are some directions and map to show you how to get here as well as a map showing our site layout and facilities.
For the benefit and enjoyment of all our guests and to maintain our high standards we do have some Park Rules which we would ask everyone to respect.
If there's anything else that you would like to ask us, please give us a call and we will be delighted to help you.
We look forward to welcoming you to Belhaven Bay Caravan Park in person.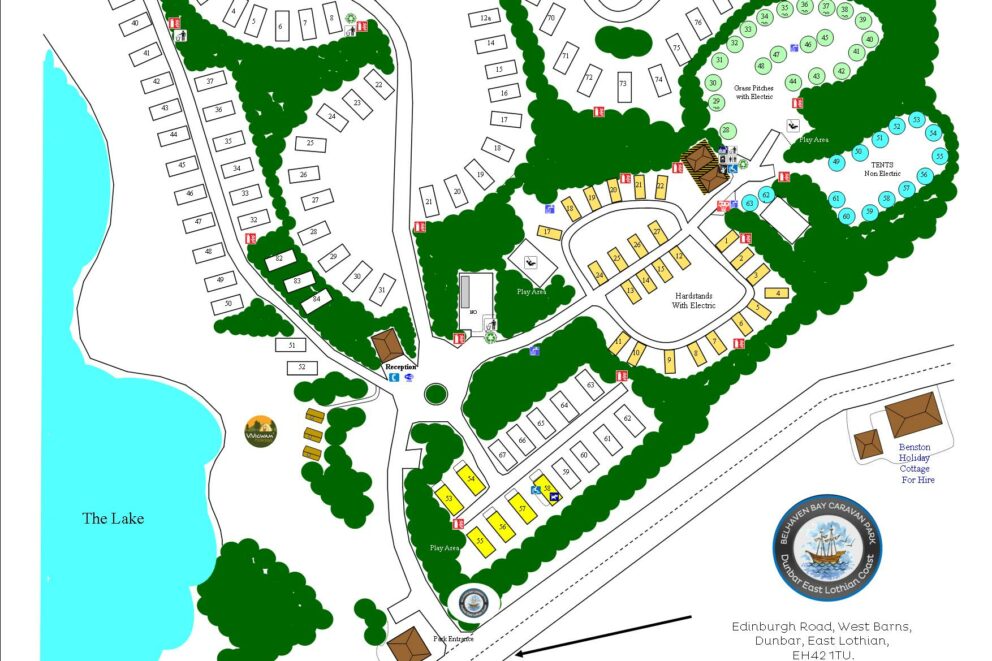 Belhaven Bay Caravan Park at a glance
As you'll see Belhaven Bay Caravan Park isn't the largest park in terms of pitches but it is spread out generously within the John Muir Country Park. We would be extremely grateful if you could take the time to download a copy of the park map so that you can familiarise yourself with the park layout and our facilities before you arrive. It can also be helpful to share with your children.
Finding Belhaven Bay Caravan Park
Enter Postcode for Directions
Enter your postcode below and click 'Go' for directions to Belhaven Bay:
By Road
From the A1 North or South exit at the roundabout West of Dunbar. The park is approximately 1 mile down the A1087 towards Dunbar.
Using your smartphone as a Sat Nav using Google Maps
Using your smartphone, press the microphone symbol on your Google Internet search bar and say 'Directions to Belhaven Bay, Dunbar
Using 'What 3 Words' mobile App
Download the free What 3 Words App for Android or iOS and then use https://what3words.com/cushy.pushover.rooms
By Rail
Dunbar is on the main east coast Railway Line. From the station, take the Edinburgh bus which passes by the park entrance.

Belhaven Bay
caravan + camping park
Belhaven Bay, Edinburgh Road, West Barns, Dunbar, East Lothian, EH42 1TU