caravan + camping park
Belhaven Bay, Edinburgh Road, West Barns, Dunbar, East Lothian, EH42 1TU
Caravan Holiday Home Hire
We are a friendly park with six high quality caravan holiday homes for hire, very close to the beach and easy access to so many great local attractions. Our caravan holiday homes are not to be confused with those for hire on other competitor holiday parks. Our standard holiday home for hire is of a greater specification and thus providing you with peace of mind that your holiday accommodation will exceed your expectation and in providing your family with a very comfortable base from which to explore the area and that's why those who discover us keep returning. Our Thistle Award caravan holiday homes accommodate up to 8 people and our hire prices are fully inclusive of all services.
5 Star quality assured Holiday Park

John Muir Country Park location

David Bellamy gold conservation award

Some with outlook doors and balconies

Each doubled glazed and centrally heated

Welcome pack provided upon arrival

Parking next to caravan holiday home

Picnic bench with each caravan holiday home

Fully equipped for self-catering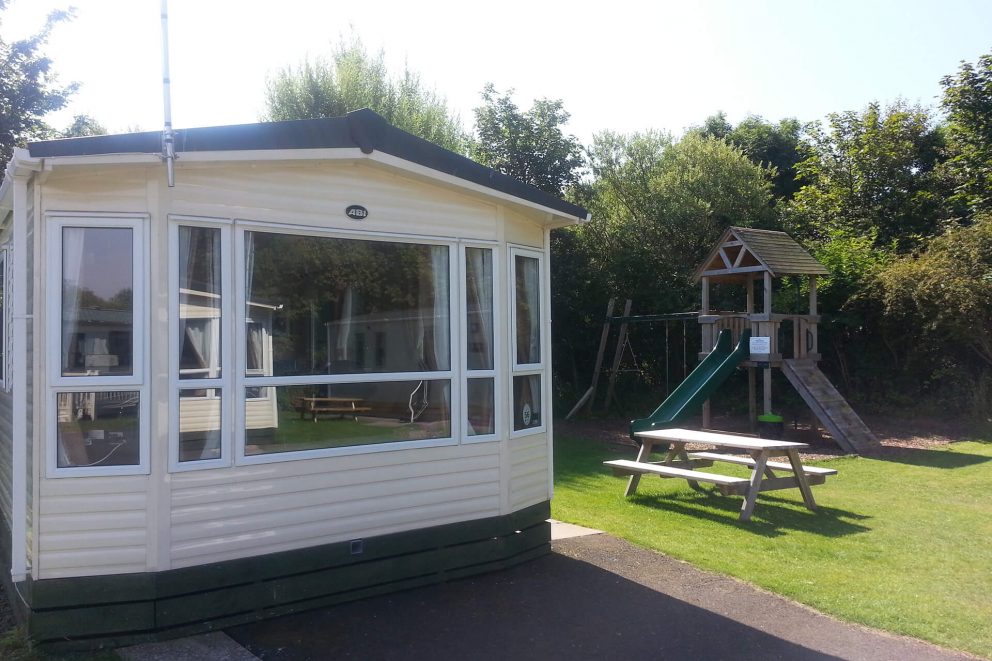 Gold 'Standard' (2 bedrooms) (no balcony)
We are very proud to introduce our Gold (standard range) of exceptional caravan holiday homes to you. With 2 and 3 bedroom homes available, all offering superb quality and facilities including en-suite shower rooms, gas central heating, double glazing, fully equipped kitchen, large flat screen TV and DVD player. The homes can sleep between 6 persons (2 bedroom) to 8 persons (3 bedroom) comfortably and linen, towels and a complimentary welcome pack is provided upon arrival.
Gold 'Deluxe' (2 and 3 bedrooms) (with Outlook Doors & Balcony)
You can expect the same exceptional standards and facilities, but some of our Gold Deluxe range enjoys absolutely prime locations. Some come with outlook doors and external  balconies and decking. This range of caravan holiday home is often our newest addition to the park, is more spacious internally and carrying extra inventory to make your holiday that extra bit special.
Easy Access Caravan
Our easy access caravan holiday home offers the same high comfort as our other caravan holiday homes but is adapted to suit disabled persons and their carers. Accommodating full wheelchair movement throughout and providing a well equipped wet room. Also worth noting that the acccommodation benefits from full size single beds in the twin room. Hoists can be hired locally.
Caravan Holiday Home Features
WC & Shower (some en-suite)

Complimentary Welcome Pack

Bed Linen & Duvalay Mattresses

Centrally Heated & Double Glazed

Some with outlook doors and balconies

Hand & Shower Towels

Large, Colour, Flat Screen TV

Fully Equipped Kitchen

Picnic Bench

Belhaven Bay
caravan + camping park
Belhaven Bay, Edinburgh Road, West Barns, Dunbar, East Lothian, EH42 1TU